Spanish Classes
This is a private hour and a half lesson that is individually tailored to ensure quick learning. The teacher has over 10 years' experience teaching Spanish and uses a combination of pedagogical methods (games, simulating everyday situations and scenarios etc.). Some light reading homework is generally expected. The class is customized to the level of the student.
Breakfast
We offer breakfast at a restaurant that is a two-minute walk from the house, located on the main strip in La Punta. A complete and healthy breakfast is a good way to regain energy after surf lessons. If you book the breakfast package you may choose any of the many options on the menu.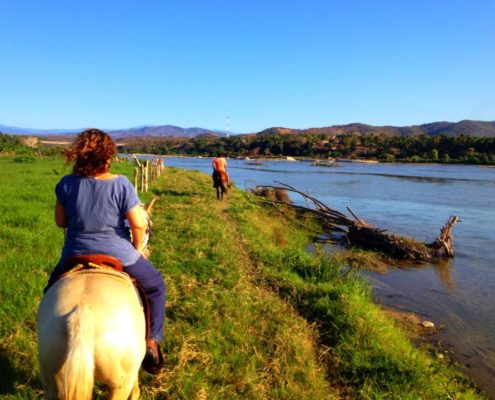 Horse Back Riding
Enjoy horseback riding? We are happy to help organize a horseback ride at sunrise or sunset into the fascinating countryside around La Punta. The guide will take you through fields, and along the beach to the river Colotepec. The outing will take 2 hours and includes horses and your personalized guide.
Photos
If you would like to take home a digital memory of your experience at Puerto Surf, consider this option. We offer a photography. This service will also help you improve your surfing technique because you can get a different view on your surfing style. The session lasts 2 hours. It can also be photo or video only. Record an unforgettable experience!
Surf outings
The surf outing is an all day visit to a beach near Puerto Escondido. It includes a surf lesson and a day enjoying a different beach in the area. The surf outing includes transportation and surf gear.
Massage
The massage is 60-minutes long and consists of various techniques with the goal of completely relaxing you. If there are specific areas that need attention, after a vigorous surfing session for example, we can use acupressure to relieve any aches or pains. The massage includes the hands and feet (reflexology) and finishes with a facial massage. We use olive or coconut oil during the massage, which has wonderful health benefits.
Yoga and Pilates
Hatha Yoga Yoga postures (asanas) take a holistic approach that balances body, mind and soul. The yoga class combines asanas, phases of deep relaxation, breathing exercises and meditation exercises. The practice of asanas should improve the interaction of body, mind and soul through controlled breath and concentration. The aim is improved vitality with a focus on being in the moment, and at the same time an attitude of inner serenity and equanimity.
Yoga schedule
4 pm monday to friday
Pilates – the art of movement (temporary)

Pilates is a holistic body workout that strengthens the muscles. In particular, the deep, smaller and weaker muscle groups are addressed, which ensure a strong and balanced posture. During the practice, the pelvic floor, abdominal and back muscles are particularly engaged. Pilates also trains movement coordination, body awareness and breathing. All movements are performed slowly and fluently, which protects the muscles and joints.